Starts in 29 Days, 13 Hours
17 February 2022 1:00 pm - 3:00 pm
Geelong West Neighbourhood House
89 Autumn St, Geelong West VIC 3218
0427 703 218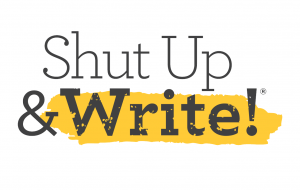 SHUT UP & WRITE!
First and third Thursday of the month | 1:00 pm to 3:00 pm
Geelong West Neighbourhood House, 89 Autumn St, Geelong West
We welcome all writers, working on any kind of project at any skill level, from beginner to pro. Meetings are an opportunity to write, undisturbed, for 2 hours.
The day and time have been chosen to complement Belmont Page; the location, close to cafes, will give participants an opportunity to enjoy lunch before or coffee/tea afterwards and, if they wish, get to know each other.
New members welcome. Email Victoria Spicer for further details.