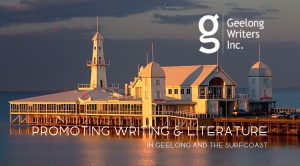 In 1993, in a beautiful bay city—the City of Greater Geelong, located about 80 km south-west of Melbourne, Australia—a group of like-minded people formed Geelong Writers Inc.
Some of these writing enthusiasts had been active in Geelong Street Poets, and some were new writers who had settled in the region or who had undertaken professional writing and publishing courses at the local Gordon Institute of Technology (becoming Deakin University in 1975).
Geelong Writers quickly established itself as a leading community-based organisation that has grown to a current fee-paying membership of more than 120. There are almost 600 subscribers to its regular newsletters and more than 900 followers on Facebook.
Geelong Writers has established strong relationships with Writers Victoria, Deakin Literary Society, the Word for Word National Non-Fiction Festival, and its organising body, the Geelong Regional Library Corporation, and with other non-incorporated local writers' groups as well as several community centres and neighbourhood houses. For many years its volunteers presented a weekly radio program on Geelong's community radio station.
Geelong Writers is the publisher of regular anthologies, including the biannual experimental poetry publication, Anomaly Street. For a full decade, it was the publisher of Azuria, an independent literary journal that built bridges between Geelong's literary community and the wider world with its multiple languages.
An elected committee organises an annual program of writing workshops, literary luncheons, members' social evenings and readings of works by visiting authors as well as those of the new and emerging writers among its own members.
The aims of Geelong Writers are:
To encourage literature, writing and writers in the Geelong region, including promotion of writing groups, writing workshops and the publications of local writers
To support and promote Geelong and district writers by providing an information service
To co-ordinate literary events and activities
To liaise with Writers Victoria
To represent the literary arts sector in the development of cultural policy for the Geelong region.
Want to become a member? Learn more about our membership options here.
COMMITTEE 2022
President: Guenter Sahr
Secretary: Victoria Spicer
Treasurer: Victoria Spicer
General Committee Members: Jean Pearce, Claudia Collins, Carol Hullin
HONOURING OUR LIFE MEMBERS
Dulcie Stone MBE
Dulcie, a huge supporter of Geelong Writers, was awarded a life membership in 2019 for her generous donation to our organisation.
Dulcie Stone won acclaim as an author, educator and campaigner for people with intellectual disabilities. Born in Melbourne in 1924, she worked as the Director of the WJ Christie Centre in Mildura, taught adult literacy classes, coordinated a range of volunteer services, and served on numerous boards and committees. Dulcie was awarded an MBE in 1981 for services to people with disability. She wrote and published more than 30 books, both fiction and non-fiction.
Dulcie died on 8 June 2019 at the age of 95.
Geelong Writers Inc. thanks the ongoing support of the following organisations: