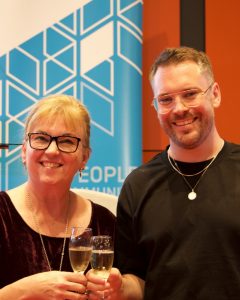 The winners of the inaugural Djillong Short Story Competition were announced at Wurdi Youang (The High Ground), Geelong Library & Heritage Centre, on Thursday 10 March 2022.
First prize: Zachary Pryor, 'Daddy'
Equal second prize: Tanya Scott, 'Truth or Dare'
Equal second prize: Gayle Beveridge, 'Dragon at the Door'
Third prize: Paulette Gittins, 'Milson's Point'
Highly commended: Yvonne Fein, 'Cadences'
Read Dr Liz Monument's comments on the winning stories here.
An anthology of the shortlisted stories will be available to purchase soon. In the meantime, you can download pdfs of the stories below. Synopses are by Abigayle Carmody, who interviewed all the shortlisted writers for the presentation event.
DADDY, ZACHARY PRYOR 'Daddy' is fearlessly written. It's a powerful and confronting story. To escape the disinterest and neglect from his father, the narrator leaves the simplicity of rural life in New Zealand, of fruit tasting of summer and the love of his mother, and heads for Melbourne. He's lonely and lost, an outsider in a new city. He misses his mother. He begins a gay relationship with Brenton whose broad shoulders remind him of his father. He falls under the spell of his new lover. A life of decadence is unlocked. The narrator becomes his property. The sexual and physical violence increases, the psychological hold intensifies. He longs for home but is trapped by a man whose heart beats twice a day. Read it here.

TRUTH OR DARE, TANYA SCOTT  A transformational story. Set on a surf beach, Eva, fear curling in her belly, is having second thoughts about why, in a flirty moment, she asked Josh to teach her how to surf. He's not even her type. He's unquestioning, takes life as it comes. Unlike her he doesn't over analyse.  Eva dives into a cold, wild sea. Waves come at her one after another. The ocean doesn't give her time to think. She's out of her depth. Swallowed by a huge wave she struggles, drifts to the bottom of the sea like an autumn leaf floating to the ground. She's drowning. Read it here.
DRAGON AT THE DOOR, GAYLE BEVERIDGE A moving story about having second chances. It also deals with a major issue of family violence confronting our society. It centres on two characters, Stacey who has closed the door on a much darker world. She wants to start again and she wants to be safe. And Ian, alone, naive and with the best of intentions. Read it here.
MILSON'S POINT, PAULETTE GITTENS A story with a captivating start—I remember, reflect on this as I am sinking. The narrator is on her way—I'd rather not be—when she does sink, physically, after falling off the ferry wharf and into Sydney Harbour, and metaphorically, into her memories. Interspersed with the threat of her drowning we are taken into a series of her childhood recollections. They are beautiful reflections as we journey with the character struggling in the water, oscillating between remembering from her child self's point of view and her adulterated mind. We move towards a revelation, a change of perception, of a lost loved one. Read it here.

CADENCES, YVONNE FEIN The beautifully lyrical and rhythmic musing of this story is like a series of sonnets, a truth telling.The narrator traces the song lines of her Jewish history as she treks north of the Alice towards Black Tank Bore on someone else's land. Questioning why she's trying to connect to a landscape older than Jerusalem. It's a non-linear story that takes the reader to the history of time, the holocaust, her holocaust-survivor parents, the numbers killed and the wasted years of life. Of life taken away. Read it here.

THE FINAL OVERTURE OF ROY, JOHN BRADLEY A story full of energy and dialogue with fast paced dramatic scenes. The characters, Roy and Jack, are living on the edge. The story deals with a number of issues including homelessness, the concept of freedom, and the pressures on families. The narrator says it's a big day for both of us … a transition to a new life. He catches the characters in a moment of change, and we go for an operatic ride with them—in a shopping trolley. Read it here.
PROJECT MERCURY, GILLIAN HAGENUS A suburban gothic story, Project Mercury is a hugely enjoyable and darkly humorous read. The narrator is part of a SWAT team undertaking 5 am raids in the suburbs. On the way to arrest a murderer he spots a VW ute he didn't get to have, he wishes he had the same sort of gate buzzer as the one at the criminal's house. There are images of blood and bowls of lemons catching the sun, the high tension of the raid alongside memories of a swing in his childhood home. The narrator is a man whose mind is not on the job. Read it here.
LIKE A TON OF BRICKS, LAURIE KEIM A warm, humorous, and heartfelt coming of age story. The narrator, a loveable 15-year-old girl, Kym, speaks to the reader through her diary entries. First entry: Today I saved a kid from a gang of bullies. She puts them in their place with her straight talking. You are horse shit, all of you, now disband. Disband, she writes, thank you Frodo for the words when I needed them.  She's funny, feisty, brave and vulnerable. Her father died when she was young, her mother is an alcoholic and her grandma, who she relies on, is starting to falter. The pressure builds as she bears the burden of holding everyone up. Read it here.

VERTICAL HOLD, ROSANNE DINGLI A deeply felt story of one woman's invisibility. The narrator is not seen by anyone, acknowledged. No-one remembered her anywhere. It was rare neighbour who remembered my name. I might very well have never been born. One of four girls she's the one who doesn't make a fuss, a noise and quietly goes about keeping everything in order in the house, unappreciated and unnoticed and unloved. Left to look after her controlling mother, not even her loneliness is noticed. Read it here.

THE FACE PAINTINGS, SARAID TAYLOR A powerful and unsettling story. The narrator has a rescuer complex. She can't ignore the voice scalding inside her, demanding that she rescue a woman she sees being beaten up, that she help a homeless man. As a teenager she confronts two violent men she sees attacking a man and asks them what exactly are you doing? She feels everyone's pain and has the courage to act. To step in where others won't. But can she rescue herself? There's a ravenous, gruesome grief inside her. She feels anger like knives. She lets the voice win and descends, spiralled fallen. Read it here.

COMING SOON A video of the presentation evening will be available soon on the Geelong Regional Library YouTube channel.
ZOOM INTERVIEWS Uncut Zoom interviews with five of the authors can be viewed here.
PHOTO GALLERY Thank you to Geelong artist Quinlivan who took these great photographs of the evening.