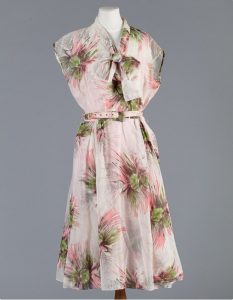 By Claudia Collins.
A Wedding in a Small Country Town
Part 2: Nylon Floral Dress

Maureen was seated at the kitchen table enjoying a glass of wine when she heard a car on the gravel driveway. She knew from the sound of the motor that it belonged to her son Brian.
Looking up as the front door opened, she thought her eyes were playing tricks on her, then she realised she was seeing her youngest son Bobby. A man now, not a boy, he was the spitting image of what his father had been at the same age. He had won a scholarship to a fancy boarding school in Melbourne when he was sixteen and had never returned home, not once in the last ten years.
Bobby hung his suit in its zipped plastic bag from the hook on the back of the door and put his overnight bag down. Their hug was awkward. Time will do that, and he had never been an affectionate child.
'Brian's not coming in then?' Maureen asked.
'He and Brendan have gone back to the town hall. There was a last minute emergency with the decorations. His wife gave me a lift. She's tired. She wants to go home and have a rest before the wedding.'
'The baby is due in six weeks but it could come anytime. Rhonda is so big, I'm surprised she can still fit behind the wheel. It could even be twins; they run in both sides of the family. Do you want a drink?' Maureen gestured toward the open bottle of red on the kitchen table. Bobby wrinkled his nose. He didn't like wine, or beer either. He seldom drank but on the rare occasion that he did, he preferred a good scotch.
'The place has changed a bit.' He took in the new fridge, the microwave, and the electric stove that had replaced the old wood burning IGA stove.
'Polly, Milly, and your brothers chipped in.' If this was a dig at Bobby, he didn't recognise it, nor did he notice that she hadn't mentioned Sally, his other sister.
'So, what are you doing with yourself these days?' she asked him.
'I work with computers for the government, programming data.' He glanced around at the threadbare brown club lounge-suite, the faded curtains, and the ladder leading up to the loft bedroom that he had shared with his brothers when he was little. 'Some things haven't changed.'
*
The sun had gone down. Maureen poured another glass of wine. Her eyes fell on the gilt-edged wedding invitation that Bobby had left on the table. You are invited to the wedding of … but she hadn't been invited, Bobby had. In fact, most of her family would be there, so why hadn't she been invited?
She drained her glass. 'I should have been invited. To hell with them!' she muttered. It was late. The wedding would be over by now but at the town hall the reception would be in full swing.
In her bedroom she pulled several dresses out of the cupboard, held them in front of her, and flung them to the floor. Her final choice was a nylon floral dress. Dated and too tight, the buttons strained across her ample bosom. A leather handbag, red lipstick, and black slip-on shoes completed her outfit. A little unsteady on her feet, she walked out the front door without locking it (country people rarely bother to lock their doors).
No one noticed Maureen make her entrance. The dance floor was packed. Those who were not dancing were clustered around the buffet table or at the bar. She paused by the door watching, scanning the crowd. There was no sign of Bobby but she could see her eldest daughter singing with the band on the stage at the far end of the hall. Polly dwarfed her short, chubby Welsh husband. They had worked hard building up their business from a small bakery into a successful restaurant and catering business. She had no children of her own and had taken on the responsibility of raising Sally's children. Maureen hadn't seen her youngest daughter in years, not since she moved to Geelong. I wonder if she's still in rehab? She dismissed thoughts of Sally and headed for the bar.
The red-haired groom led the bride on to the dance floor for a waltz. At six-foot, he towered over his diminutive bride. He gazed down at her and she smiled up at him looking radiant in her satin sheath-style bridal gown. A slit in the dress revealed a hint of blue garter on her left leg.
That dress is one of Milly's creations, no doubt. Maureen's middle daughter owned an exclusive boutique catering to Ballarat's society women. Millicent-Rose she calls herself now. Does she think her shit don't stink? She won't be here, she rarely shows her face in Linton these days.
She watched as her twin sons danced with their pregnant wives. Angela, at five months, was barely showing while Rhonda looked about to pop. The waltz ended and the band began playing a faster number. The twins led their wives from the dance floor.
Craning her neck, she tried to catch sight of Johnno. Not only was he the father of the bride, he was also Bobby's father. Maureen's husband had suicided after he caught them together and Bobby had been born six months later. Their affair continued through both of Johnno's marriages, though their trysts had lessened since June had left him and it had been over four months since she had last been alone with him. He is waiting for his divorce to come through and he can make an honest woman of me. Her inward smile became a frown. Where is he? 
*
Brendan shoved Maureen into one of the armchairs in front of the fireplace.
'Just stay put, Mother!' He was furious with her for causing a scene and spoiling the reception.
'It should have been me!' she had shouted when Johnno made that speech announcing his engagement to Sally. The twins hustled her out of the hall and Brendan had driven her home.
'How did they even get together? Last I heard of her, she was in rehab in Geelong.' Maudlin now, Maureen began to sob. Her mascara ran, staining her face. Brendan left. His patience totally gone, he slammed the door behind him.
The fire sputtered fitfully. Using the tongs, Maureen poked at it viciously. A shower of sparks flew on to the hearth. She threw in some pine cones, added a log, and wandered into the kitchen to get another drink. Not bothering with a glass, she slumped into one of the armchairs by the fire and drank from the bottle. Before long she had passed out and the bottle fell from her hand.
Unaware, Maureen slumbered on as the log rolled out of the fireplace and lay smouldering on the rug.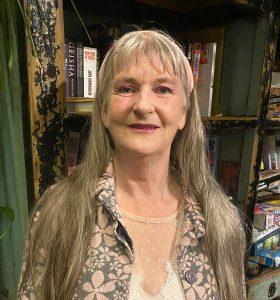 ABOUT THE AUTHOR
Claudia Collins is a Geelong-based singer/songwriter She joined Geelong Writers to be part of a like-minded and supportive group of people. You can find examples of her short stories, poetry, memoir and flash fiction pieces in Geelong Writers anthologies dating from 2016. Claudia convenes Belmont Page Creative Writing Group and has nearly completed her first novel.