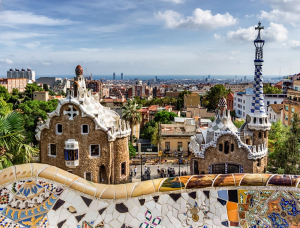 By Judy Rankin.
Barcelona: a Mediterranean paradise for the sun-loving traveller, offers mile after mile of wide, gleaming sandy beaches, quaint but bustling markets and a plethora of festivals over the summer months. The location, warm climate, and natural beauty make it an idyllic place to relax and rejuvenate a tired body and mind. But scratch the surface of the culture and you'll soon discover another Barcelona…perhaps the real Barcelona.
While tourists flock to the city to soak up its outdoor lifestyle, the thing that attracted me was the incredible history—much of it etched into the walls, the museums and the people. Europe's borders have seen frequent movement over the centuries as a result of complex political situations. Today, the scars of dictators, revolutions, and markers of a bloody history are accompanied by the incessant cry of "Indepencia!" throughout Barcelona.
As you wander down Las Ramblas, your senses will be flooded. The sounds of many languages from fellow tourists from across the globe will greet your ears as you wade through the endless souvenirs and postcards. The smells of seafood paella and cured meats will assault the nostrils. Enter any restaurant or café and your tastebuds can enjoy the traditional toasted bread topped with a little olive oil, garlic, a pinch of salt and a light covering of fresh crushed tomato.
In between the bikini-clad sun worshippers and spruikers trying to entice you to buy their products you'll be hard-pressed to walk a block without seeing at least half a dozen red and yellow flags hanging from windows, balconies and walls.
When I first visited Barcelona in 2014, I was intrigued by these flags that I saw everywhere. I knew enough to know they weren't Spanish flags, but not enough to know what they represented. It didn't take long, though, to discover the Catalans: a proud and resilient people that have inhabited the north-eastern region of the Iberian Peninsula for tens of thousands of years.
The Catalans have made the headlines in recent years for their 'unconstitutional' independence referendum. But what many onlookers don't realise is this is not a new and sudden pursuit. It has been going on for over 300 years. Francisco Franco's most recent brutal attempt of repression triggered and solidified Catalonia's identity as separate from Spain. A trip to the Museo d'Historia de Catalunya will take you through the Catalan history from the Stone Age to today. You will see how the once independent state, and powerful leader in Mediterranean trade for many years, formed part of the Crown of Aragon and only became entwined with Spain because of a marriage between Ferdinand, King of Aragon, and Isabella, Queen of Castile, in 1469.
Above the city, Montjuïc (meaning 'Jewish Mountain') once housed the city's Jewish population. The scenic lookout began with a simple watch tower that allowed far-reaching views of the city and surrounding countryside. Today you'll find the Montjuïc Castle – a fortification built in 1640 during the Reaper's War when the peasant farmers revolted against authorities – stands as a reminder of the repression and the city's struggles throughout its history. From the castle, the Catalans kept the Spanish at bay during the 17th century assaults. It also saw the Spanish breach the walls that surrounded the then-city limits just a few years later to ultimately end Catalan independence. The Castle, at one time, was used as an ammunition store. At another time as a prison. It was also the site of Catalan president, Lluís Companys, execution during the reign of dictator Franco.
It's easy to forget that less than a century ago this city and its people were under attack and threatened to within an inch of their cultural existence. Dictator Franco outlawed the Catalan language under a unified Spain policy of 1939. It could not be spoken and the Catalan traditions were no longer allowed to be practiced. The Spanish civil war was a show of force by the dictator to wipe out any who refused to unconditionally embrace the Spanish way of life—sacrificing their own culture and identity. This law remained until Franco's death in 1975. The scars from Franco's oppression can be seen on the walls surrounding Plaça Sant Felip Neri. Rather than repair the shrapnel scars on the church wall, the people of Barcelona leave it as a statement: they will not return to the dark days of censorship again.
While struggle and war have played a big part in Barcelona's history, there are also some wonderful historic people, places and things to be experienced. Camp Nou, home of the famous Football Club Barcelona, which epitomizes the character of the Catalan people, has an exciting and vibrant atmosphere. Outside the hallowed ground surrounding the perimeter stands another history held within the FCB museum. I sat at one of the many cafés outside the ground and watched as people, young and old, filled with joy in their eyes came to experience the great Camp Nou. Faces lit up as they neared the turnstiles; eyes wide trying to take in all the place had to offer, from FCB merchandise to having a cervesa while staring at the oversized team photo covering the stadium wall.
And who could forget the incredible, quirky, outrageous and brilliant architect Antoni Gaudi. The 'Sagrada Familia'— under construction for 135 years and still not finished—towers over central Barcelona. Or visit Park Gűell; designed by Gaudi to be a symbiotic residential zone offering larger blocks of land and space to live outside the confines of the overcrowded city centre while remaining in close proximity. Unfortunately, many deemed it too remote and Gaudi ended up being one of the only people to live there—which has worked out well for us tourists who can now enjoy the brilliance of Gaudi in a beautiful park setting.
One thing you won't find in Barcelona—or anywhere else in Catalonia for that matter—is bull fighting; outlawed in 2011 because it represented the Spanish culture rather than Catalan. Instead, a visit to Las Arenas, the last bullfighting arena in Barcelona, will see you walking the perimeter of the old stadium while partaking in some retail therapy in the now vibrant shopping centre.
Barcelona is more than a lovely climate with expansive beaches. When you get to know the city, the people and the history, it's hard not to fall in love. If I was Spain, I wouldn't want them to leave me either. Catalans are a strong, resilient and enigmatic people. For hundreds of years, they have had to fight to exist. Time after time they have been invaded, undervalued, taken advantage of, abused and considered to be little more than an annoying little dog yapping at the heels of more dominant nations. However, they have not been quashed. Today they again stand up to the big boys defiantly demanding what they believe they are entitled to: independence. To be a part, even for a short time, of this amazing city and experience firsthand the rich, vibrant and long narrative the Catalans have to tell will leave you wanting more. Yes, you will get a better price if you speak Catalan rather than English or Spanish. Yes, it is the pick-pocket capital of Europe. Yet Barcelona has an energy and effervescence that, like its history, cannot be ignored.
The Catalan capital will touch you and demand respect. And, if you're like me, you'll gladly give it. These people, who cannot be denied, will give you one of the best holidays you could hope for. Come and experience the pyrotechnic Correfoc – the Catalan word for 'fireruns' and, trust me, you will be ducking and weaving for cover as the crowded streets watch the procession of 'devils' spewing fireworks into the air and over the onlookers. Come and see the Magic Fountain as it dances to the sounds of Freddie Mercury singing 'Barcelona'. Or come and experience the concerts, events and celebrations of Catalunya's National Day, September 11, culminating in recent years with hundreds of thousands marching for independence.
Barcelona and the Catalans have something for everyone and ask only to be recognised, respected and appreciated in return. You will not be disappointed.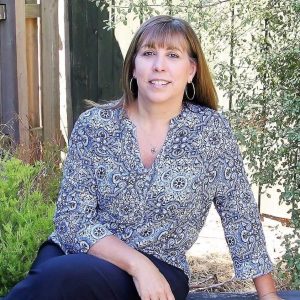 ABOUT THE AUTHOR
Judy Rankin is the author of the memoir It's [Not] All About Liz! (2014), historical fiction novel, Catelina (2017) and middle-grade children's novel The Land of Giant Pineapples (2021). Judy has written for MUFTI (the Victorian RSL members magazine), That's Life magazine and From the Inside Looking Out, 2020 General Anthology. She has also appeared in New Reader Magazine 1(2) June 2018.
When not writing stories, Judy runs her own financial administration business, Surf Coast Support, looking after the accounts of small businesses and funding for NDIS participants. She also runs 'Jaymah', a small press and online bookstore supporting emerging writers. Judy is also attempted to finish a creative-practice PhD in Communication and Media with RMIT.