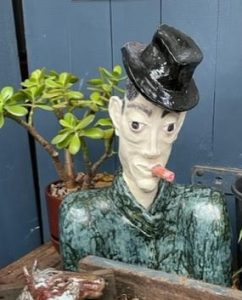 Simple Sculpture, by Gayle Langford,

FIVE POETS RESPOND TO THIS SIMPLE SCULPTURE 
REG
By Jean Pearce
Pour me another bourbon mate, yeah pour it straight …
My name's Reginald,
Reg for short,
R for royal and ridiculously rich,
Just jokin'
Right hot in here in the Foundry
temperatures rising…
burning love…
Crank up the kiln…
Anyone there have a light?
I'm on fire.
I heard it on the tv.
Half a degree. That Attenborough bloke.
You said it, half a degree.
It doesn't sound much.
Burned all that summer of 2019,
Smoke everywhere.
A holocaust of the bush,
Hell, I could hardly breathe.
Just half a degree.
Yeah, I'll have another bourbon. Straight. Got it?
Have you got a light,
Cigar,
Havana's my preference.
Got a cough after the fires.
– on my way out.
– Movin' on.
We're all going on the road,
on the road again.
I'm that guy you always see at the Foundry, hanging out the front.
Used to be a star, my name in lights, yeah the Ballroom, down near the pier.
Now I hang here in the Foundry,
Waiting for those hot shot writers to come.
The ones who drink tea.
Have I met you before?
Yeah, you said it,
half a degree and we could all blow.
Just let me know.

WORLDLY SMIRK
By Ivor Steven
I do not know you
But your glassy eyes know me
Why that worldly smirk
I have a million questions
Do you have all the answers

A GAMBLING MAN
By Diane Kolomeitz
The day now gone – and all his money too –
The punter sits near window sill and smokes
A fat cigar, and contemplates the view.
Remembering with each breath, he deeply tokes,
Exhaling loss, but ready to be led
In other ventures, swindling naïve folks.
But what is this, a disembodied head?
The ghost of horses, come from far away
To taunt him, as he readies for his bed?
It is a handsome nag, but made of clay,
Just like the ones who with their feet of stone
Are coming still, on this a racing day!
Decapitated, propped there all alone –
Don Corleone has maybe been around,
To leave a creature, once of blood and bone?
His eyebrows arched, the punter's clearly found
The omen he'd been looking for in vain –
'Gangster! In the first race on the ground!'
Today's loss in the past, its memory wanes,
Tomorrow, Lady Luck returns again…

WHAT'S BENEATH
Jenny Macaulay
The top of the morning to you, folks
It's been five years now…
Since retirement
Thought I'd celebrate
With a cigar
Not lit of course
Haven't smoked for years
We'll…couldn't really
Not around the kiddies
Five years today
Since getting
The boot
Too old
They said
And in five years
My eyes
My mouth
My nose…
All worn away
All I have
Is my empty
White face
And what next?
What's beneath the makeup
Of a clown?

CHINA ME OLD MATE
By John Heritage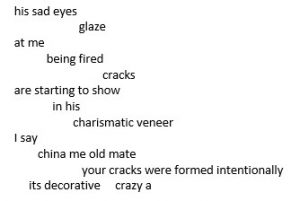 Now … ReImagine: Ekphrastic Poetry At The Foundry Studio & Gallery, which features these and other poems and artworks is available for purchase here.